Welcome to JBDF
The president of JBDF speech
Join our hearts together
and make a
"global society" !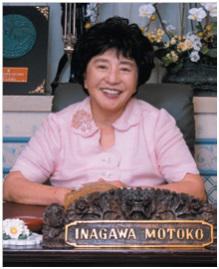 Ballroom dance is a lifelong sport that can be enjoyed by men or women, young or old, yet it's also said to be a high art. It differs from the communication of simple words and phrases exchanged over the internet. It's a communication culture made up of warmth generated from the direct touching of bodies and minds. It transcends the limits of language and communicates through the medium of music. And at the level of competitive dance, which cannot be accomplished without the combined effort of two people working as one unit, it is a beautifully profound communication culture.
In order to get everyone to see this attractiveness of ballroom dance in a new light, I've realized that it is my role as the president of the newly established JBDF to think about what needs to be done, and then take the lead in doing everything that I can.
I remember that in the mid 1940s to the mid '60s there were dancehalls on every street corner in town. Among adults in those days, about one in three or one in four knew how to dance. Of course they were mainly dancing the jitterbug that was brought over by the occupation forces, so the style was a little different from the ballroom dance and competitive dance of today, but it was definitely an era when the communication culture of social dance was an integral part of our daily life. And it was exactly during that time, in 1950, that the Japan Competitive Dance Federation was born, later to become the JBDF. From that time until today, the JBDF has been self-managed by professionals who have devoted their lives to ballroom dance, and together with amateur dance enthusiasts, it has defined an era.
However, the situation today in ballroom dance and competitive dance is that its enthusiasts are aging and its popularity has stopped growing. Not unrelatedly, the JBDF, who should be at the center of popularization efforts, has lost its vitality over the last several years and hasn't settled on a way to move forward.
Now I have taken on the role of president of the JBDF, and as an enthusiast who understands the attractiveness of ballroom dance, I intend to firmly set the JBDF on the right path forward, bring back a sense of pride to all members and to all concerned, and use all my energy to reform the organization so that it can promote a new era of dance popularity. This is the mission that I am honored to receive. I am 82 years old, and I consider it literally my "life's work" to spend the remainder of my life working to accomplish this mission.
By nature, I am a person who always wants to take the initiative to accomplish whatever I can, and therefore, no matter how small or distant a problem, I try to focus on it with my utmost concentration and take action. Already, based on introductions from my friends, I've worked to arrange partnerships to give introductory lessons in ballroom dance at several high schools and vocational schools.
Nevertheless, there is a limit to what I can do by myself. Fortunately, the new JBDF, including vice president Yoshiaki Uchida and managing director Hisashi Ishihara, has a new structure made up of wonderful members who possess character, ability, and a sense of responsibility. I feel as if I am working as their helper and need to do all I can for them to achieve my mission and show my abilities. Of course, I also intend to communicate with members of other foundations and work together with them on joint efforts.
People differ in their ability and physical strength, as well as in age. Weak points are nothing to be ashamed of. But if you look at yourself one year from now and you haven't improved yourself compared to today, then I think it's shameful. In the same way, if the JBDF one year from now is in worse shape than it is today, if it hasn't grown, then that would be an embarrassment, and as president, I would be accountable. Therefore, I'll bear the hardships on my own, and I'll highlight our successes so we can all enjoy them together, and I'll strive to work in harmony with everyone.
If people with different motives discuss an issue, they won't reach a consensus. But if our hearts are united, the organization will naturally move in one direction. Let's try our best to work together to make a happier future for ourselves!
Motoko Inagawa, president of JBDF